Founding Pastors
Bishop/Apostle Earl Palmer In 2012, at the leading of the Lord, Pastor Earl Palmer was ordained as an Apostle, followed by his Bishopric ordination in 2014. He has planted churches in Kingston, JA and Carlisle, PA, and oversees a fellowship in Norristown, PA as well, and has a mandate from God to establish churches in other regions of the world. Operating an Ephesians 4 Church, Apostle Palmer trains his own leaders in the 5 fold ministry gifts of apostle, prophet, evangelist, pastor, and teacher. Often described as a Pastor's Pastor, Apostle Palmer's wisdom and discernment have guided a number of Pastors through the governmental challenges of growing their ministries and shepherding their flocks. Apostle Palmer has founded "Taking It Back Ministries International", a ministry of Brand New Life based on 1 Samuel 30:18, that trains and equips individuals to take back all that the enemy has stolen. From time to time this ministry involves radio and television broadcasts. Apostle / Bishop Palmer has studied at Jamison Bible Institute, The Center for Theological Studies, and Christian Research and Development Institute. He holds a Bachelor's degree in Mechanical Engineering from Temple a University.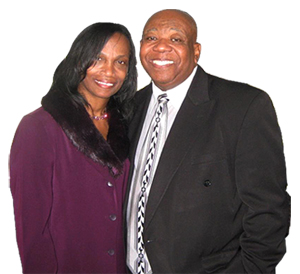 Prophetess Maria Palmer In 2013 Co-Pastor Maria Palmer walked into a new season when she was ordained as a Prophetess. Having a great love for the Word of God, her teachings place strong emphasis on it's power to deliver and set free. She decrees and declares the Word with authority and power, and ministers with prophetic songs, and warfare dance, under the leading of the Holy Spirit. Prophetess Palmer serves as Director of Christian Education, oversees BNL's Bible Institute, and leads, the Women's Ministry.
She has been trained through the Evangelical Training Association, and has taken classes at the Summer Pastors' School at Campbell University in North Carolina, and The Elisha Company School of the Prophets. Born and educated in Baltimore, Maryland, she holds a Bachelor's Degree from Howard University, and a Master's Degree in Speech Pathology from Columbia University.
The Palmers have been married since 1975 and are the parents of three adult children. Together, they are a team which exercises "crazy faith", preaches the Word without compromise, and encourages believers to receive all God has for them in all areas of their lives.